INFRASTRUCTURE & PROCESS TECHNOLOGY
Zylog's Sheet Extrusion Division is located at Nasik, India – with an annual capacity of 5000 tons of sheets. It has a range of capabilities to produce variety of sheets, skins and laminates using a T-Die, Coat Hanger type extrusion setup, augmented with a co-extruder to produce single and multi layer sheets.
Besides extrusion, we also coat substrates using gravure coating, providing skins and laminates with excellent haptics and performance capabilities.
The entire setup is fully integrated with upstream and downstream automation for handling materials as well as converting sheets into roll stock or cut sheet form, packaged per customer requirements.
Besides this, Zylog's thermoforming division, located within the same premises at Nasik, India is equipped with a large thermoforming machine of 3 MTR X MTR bed size, enabling us to produce parts upto 10 ft X 6 ft. The fully automatic vacuum forming machine is augmented with CNC routers, welding and adhesive machines, assembling setup, CAD/CAM to produce simple parts such as roofs to a complex fully assembled instrument panel for bus and trucks.
Zylog's processes are ISO TS 16949 certified, supported by ISO 14001 and OSHA 18001 for environment, health and safety. The laboratory and quality control center verifies, validates and monitors product quality and consistency. The lab is not only equipped with physical verification of sheets, but also includes a full-fledged polymer testing facility for testing physical, mechanical, rheological and thermal properties of the base material used for making the final product, thus ensuring that material to sheet form conversion is in line with agreed specifications and performance standards.
Sheet Width: upto 2000 mm
Sheet Thickness: 500 microns to 5 mm
Sheet Types: We manufacture sheets as single layer, mono-material; multi-material multi-layer; laminates with non-wovens, woven fabrics, fibers, scrim reinforced, providing unique performance characteristics






With over 35 years of polymer compounding experience, Zylog is uniquely positioned to provide fully customized solutions. Our material library of over 1500 formulations and 250 color formulations provide customers with the differentiation required in the competitive marketspace.
CompSpec™ range of flexible and rigid sheets, skins and laminates are formulated using a wide variety of polymers such as PP, PE and elastomers such as EPDM, SBC, alpha-olefins, alloys and compounds; creating unique specifications that meet demanding performance for applications across varied industries.
The formulations are further tweaked based on final process of thermoforming. Rheology and thermal properties of the material suited for Vacuum Forming, Pressure Forming, Twin Sheet Forming, Multi-station Rotary Forming.
Typical Material Characteristics
Hardness range from 35 Shore A to 70 Shore D
Low Density – 0.89 gms/cc onwards
Excellent impact/stiffness balance
High specific heat resistance – heat and NVH insulation
Hinge properties
High melt strength for high draw and low thinning ratio
Chemical resistance to acids, bases, alcohols, water solutions, polar solvents, detergents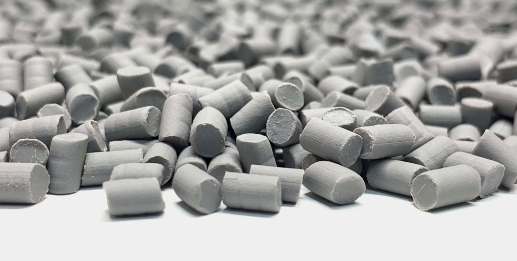 High weather resistance, Flame Retardancy
Conductive, Dissipative and Insulation – providing electrical insulation and volume resistivity properties
FDA and Pharmacopeia compliant grades – meeting cytotoxicity, hemocompatibility, biocompatibility, anti-microbial and anti-fungal
Paintable grades
Scratch, mar and abrasion resistance
High haptics and aesthetics – soft feel, with rigid substrate